Aurora C. I. Johnson Elementary School issued the following announcement on July 8.
Ten East Aurora High School students who are members of the after school club FCCLA (Family, Career and Community Leaders of America), recently participated in the FCCLA national competition in Anaheim, California.
The students qualified for nationals after their performance at the state-wide competition held in April. Students participating included: Latron Cannon, Joseline Carbajal, Antonio Alcantara, Luis Barrera, German Casas, Cristal Leon, Bryana Perez, Carina Rios, Sarahi Maldonado & Oscar Guerrero.
At national competition, students receive either a gold, silver, or bronze award. Each of the students received a silver. East High students competed with projects in the categories of Website, Promote and Publicize, Sports Nutrition, and Food Innovation.
"We had four teams, 10 students total, and for all of them to come back with silver, that was pretty impressive," said Kristin Doucette, East Aurora High School HERO and FCCLA Adviser and Culinary Arts/Restaurant Management Instructor, accompanied the students on the trip.
The national competition included 2,800 teams in 33 different events and categories. In total, over 8,700 in attended the event with close to 5,000 students competing.
While at the competition, Tomcats also had the opportunity to network with fellow members, attend FCCLA program workshops and leadership sessions, as well as take part in competitive events.
Family, Career and Community Leaders of America is the Career and Technical Student Organization for Family and Consumer Science students. FCCLA is a national student organization that helps young men and women become better leaders in their families, careers and communities. Students learn skills for life: planning, goal setting, problem solving, decision making and interpersonal communication.
"It is hard to compete at a national level, and so am really proud of these students," said Doucette. "The fact that they all scored silver at a national level means our kids are holding their own."
Doucette said she was looking forward to encouraging even more students to set goals and work hard throughout the year to achieve this level of success. "We have one of the largest chapters in Illinois, so it would be nice to have more students in this lane of competition. I know our kids can do it."
Doucette and the students returned with silver awards, and with gratefulness.
"We are all very grateful to our Board of Education and school leaders who support activities such as FCCLA, as well as our donors for this competition. The skills learned in FCCLA will better prepare students for their lives after high school and offer an endless variety of possibilities."
Original source can be found here.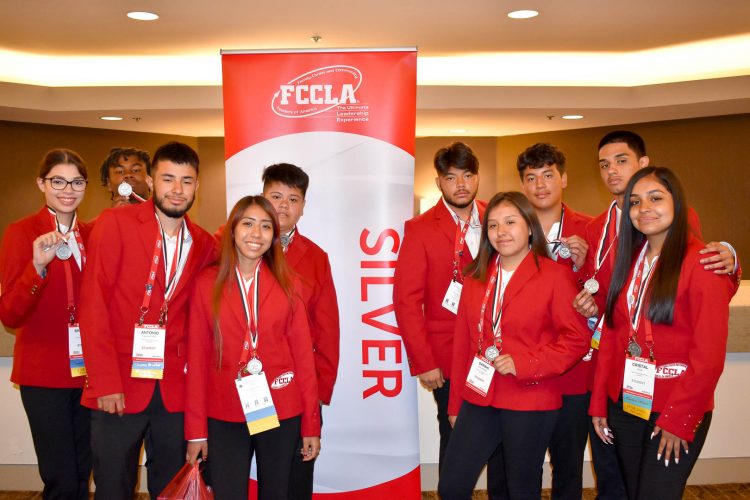 Source: Aurora C. I. Johnson Elementary School