Montgomery Board hears presentation on economic development activities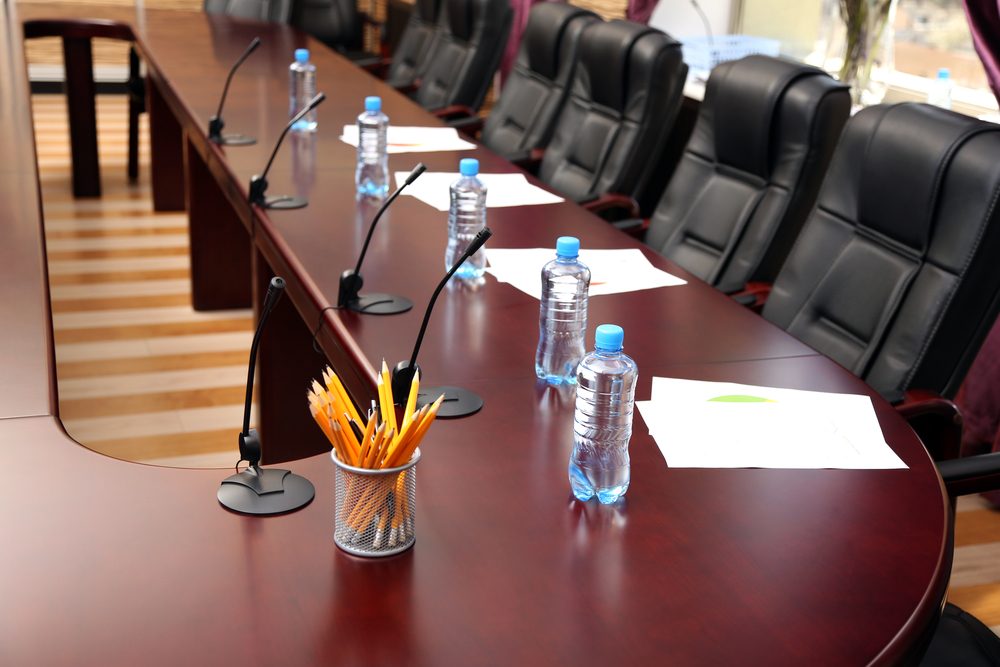 Montgomery Board met Monday, Jan. 23.
Here are the minutes as provided by Montgomery:
Village of Montgomery
200 N. River Street Village Board Meeting
Montgomery, Illinois 60538 January 23, 2017
Village President Brolley called the meeting to order at 7:02 p.m. followed by the Pledge of
Allegiance.
Roll Call
Trustee Sperling Yea Trustee Jungermann Yea
Trustee Lee Yea Trustee Marecek Yea
Trustee Heinz Absent Trustee Bond Yea
Also present: Administrator Jeff Zoephel, Attorney Jessica Briney, Chief of Police Daniel Meyers, Director of Finance Justin VanVooren, Director of Community Development Rich Young, Engineer Peter Wallers, Director of Public Works Todd Hoppenstedt, Members of the Press and others.
Public Participation
A. Public Comments.
There were no public comments this evening.
B. Charlene Coulombe-Fiore, MEDC Update.
Dr. Neil Schlupp, Chairman of the MEDC Board, and Charlene Coulombe-Fiore, MEDC Executive Director, spoke and presented their semiannual update. Dr. Schlupp thanked the Board for their continued support and involvement. He shared that their budget for 2017 was approved, the election of their officers recently took place and that he would continue serving as the MEDC Chairman.
Ms. Coulombe-Fiore thanked the Board for working with the MEDC and went over their primary goals of Public Relations and Marketing, Economic Impact, Communication and Information. She shared that she met with the Plan Commission to educate them on what the MEDC does and was invited back to participate in their Land Use and Future Planning meetings to assist them with marketing the community for upcoming projects.
The MEDC markets Montgomery using various publications and through meetings, events, press contacts and social media with the hope that the advertising will help to grow the manufacturing, commercial and retail base in Montgomery. Some of the tools used to reach these objectives were: updating the MEDC website, holding informative breakfast meetings for local businesses, partnering with the Community Development Department to host Property Bus Tours, attending Retail Deal Making and Retail Connection Shows at Navy Pier and in Rosemont and hosting a golf outing fundraiser and Holiday Appreciation Party for local businesses so that they can network and collaborate. These venues allow the MEDC to sit down and talk with current and prospective businesses to better serve their needs and encourage them to locate in Montgomery.
Some of the highlights of the MEDC presentation included partnerships with Waubonsee Community College and the Kendall County Convention and Services Bureau, collaboration with the Montgomery Rotary Club, new construction and re-development with many businesses, such as Old Dominion Freight Line, American Crystal Sugar Company, Performance Food Service, Butterball, Nexeo, AT&T, Mattress Firm, Fuller's Car Wash, 9'ers Grill, Pig Dog Pub, U-Haul in Settlers Landing, Liberty, Lakin, Binny's, West Suburban Dental Care, Lucky's, Dunkin Donuts in Ogden Hill and Aurora University.
Trustee Bond inquired when Fuller's Car Wash was due to open and Chief Meyers said that it should be around the end of March. President Brolley raised a question in regard to the potential closing of the Caterpillar plant. He inquired how the Village staff could work together with the MEDC to find out what's going on and what the Village, county and state could do to encourage them to stay. If CAT chooses to leave the area, then the question becomes how the Village can assess what impact their closing could have on local businesses that operate in our area and partner with them.
Ms. Coulombe-Fiore shared that CAT had asserted that it was not interested in selling or leasing its property or land and is not leaving the area entirely, that the company had weathered downturns in the past and that it may take years for the changes to phase out. In that time, she hoped that enough other jobs would be created with the new companies and business partners that are locating in Montgomery that would help to offset and replace any jobs that could be lost by CAT.
Consent Agenda
A. Minutes of the Village Board Meeting of January 9, 2017.
B. Executive Session Minutes of December 12, 2016.
C. Accounts Payable through January 19, 2017 in the Amount of $411,059.25.
D. Accounts Receivable Report for December 2016.
Trustee Jungermann moved to approve items A-D on the Consent Agenda. Trustee Marecek
seconded this motion. 5 Yea. 0 No. Motion carried. Trustee Jungermann, Trustee Marecek, Trustee Bond, Trustee Sperling and Trustee Lee voting yea.
Items for Separate Action
No Items for Separate Action this evening.
Items for Discussion
A. Family Pantry Liquor.
Chief Meyers introduced a request by Kamal Qattum, the owner of Family Pantry, for a Class I Liquor License for Beer and Wine for his convenience store. Mr. Qattum addressed the Board and listed the reasons why he felt a Liquor License would help his business. He shared that despite using local advertising, providing a wide range of products and remodeling and investing in numerous property improvements, that he is still having difficulty competing with Dollar General and Family Dollar. He felt that a liquor license would draw more customers into his store who would buy other items and subsequently increase his overall sales, profitability and success.
Trustee Lee and President Brolley discussed that this area is adequately served with Liquor Licenses at this time. Trustee Marecek also noted that Liquor Licenses have been declined by the Board for this location previously and that the Board recently declined a request for a gas station adjacent to this property. Chief Meyers asked the Board for direction and they came to a consensus that they would not be in support of granting the request for a Liquor License for Family Pantry at this time.
New or Unfinished Business
Trustee Sperling shared that the Montgomery Rotary Club is doing a supply drive benefitting Mutual Ground to assist victims of domestic violence. There are collection boxes located in the Village Hall and at the Police Department which have lists of needed items attached to them. The supply drive will go through Tuesday, January 31st.
On Thursday, January 26th, the Rotary Club is conducting tours of the Police Department from 5:30- 6:30 pm and hosting a family game night afterwards that is open to the public from 6:30 to 8:30 pm.
Future Meetings
A. Plan Commission – Thursday, February 2, 2017 at 7:00 p.m.
B. Beautification Committee – Wednesday, February 8, 2017 at 6:00 p.m.
C. Village Board Meeting – Monday, February 13, 2017 at 7:00 p.m.
D. Committee of the Whole Meeting – Tuesday, Tuesday, February 21, 2017 at 7:00 p.m.
E. Village Board Meeting – Monday, February 27, 2017, at 7:00 p.m.
Executive Session – 7:55 – 8:17 p.m.
A. To Discuss the Employment of an Employee Pursuant to 5 ILCS 120/2 (c)(1).
Trustee Jungermann moved to adjourn to Executive Session to Discuss the Employment of an Employee Pursuant to 5 ILCS 120/2 (c)(1). Trustee Marecek seconded the motion.
5 Yea. 0 No. Motion carried. Trustee Jungermann, Trustee Marecek, Trustee Bond, Trustee Sperling and Trustee Lee voting yea.
Adjournment: 8:19 p.m.
Seeking no further business to come before the Board, it was moved by Trustee Bond and seconded by Trustee Jungermann to adjourn the meeting.
5 Yea. 0 No. Motion carried. Trustee Bond, Trustee Sperling, Trustee Lee, Trustee Jungermann, and
Trustee Marecek voting yea.
Respectfully submitted,
Penny Fitzpatrick
Village Clerk
Want to get notified whenever we write about any of these organizations ?
Next time we write about any of these organizations, we'll email you a link to the story. You may edit your settings or unsubscribe at any time.
Sign-up for Alerts
Organizations in this Story
Village of Montgomery • Village of Montgomery Village Board
More News