Andersson's vote to pass budget brings backlash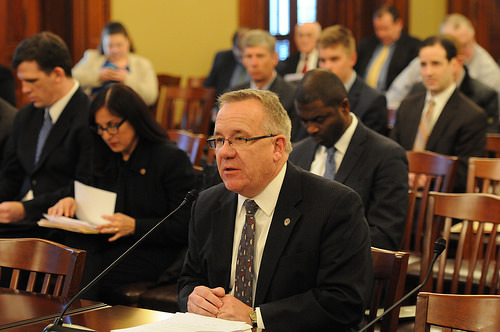 Rep. Steve Andersson | Courtesy of repandersson.com
State Rep. Steve Andersson (R-Geneva) has been taking heat after voting to override Gov. Bruce Rauner's veto of Illinois' first budget in two years.
Paul Caprio, director of the political action committee Family-Pac, called Andersson's support of the override "a betrayal" of the House GOP caucus' ability to negotiate and of the voters in his House district.
A budget worksheet | Courtesy of Morguefile
Although Andersson resigned his post as assistant GOP minority leader after being asked to do so by House Minority Leader Jim Durkin (R-Burr Ridge), Caprio demanded he also resign as a representative. Following approval of the new budget package, Andersson stepped down from his position as House Republican floor leader.
Condemnation was swift on social media too, but Andersson told reporters that he voted for what he saw as Republican values.
An opinion column in the Chicago Tribune painted a handshake between Andersson and House Speaker Michael Madigan (D-Chicago), and Andersson's support of this override vote, as risky to Andersson.
Despite a previous pledge not to raise taxes, Andersson voted in early July to raise taxes by more than 30 percent (32 percent in total) in approving the override of Rauner's vetoes of the budget package.
The vote was 71-42, getting just the number of votes needed to override the vetoes. Andersson was not the only Republican to vote in favor of this budget. He was joined in that action by Reps. Mike Fortner (R-West Chicago), and David Harris (R-Arlington Heights), as well as 12 other Republican representatives.
A campaign website for Andersson said he did not support keeping a temporary increase in personal and corporate taxes dating back to 2011 that was set to expire in 2015. The newly approved tax increases of 1.25 percent increase in personal taxes (from 3.75 percent to 4.95 percent) and the 1.75 percent increase in the corporate income tax (from 5.25 percent to 7 percent) approved this month is different from the 2011 increase, because they are permanent.
The new budget is expected to bring the state an additional $5 billion per year, and cut spending by $2 billion each year. Andersson's campaign website advocated for prioritized spending and zero-based budgeting. It also included opposition to a graduated income tax and changes in spending.
At a June 13 emergency town hall meeting in Geneva, Andersson told the assembled crowd that raising taxes in this budget was a better option than passing a "feel-good budget." He painted a picture that without the budget, the state wouldn't be able to pay off bonds or employees.
One of the biggest issues in getting the state a working budget was getting two key individuals, Rauner and Madigan, to work together, Andersson said.
Rauner said he rejected the budget package because it didn't do enough to cut spending, pay down debt, create jobs, or restore confidence in the government. He wanted to see changes like cost-cutting restrictions on compensation for injured workers, a property tax freeze across the state, and reforms making it easier for voters to merge or eliminate local governing bodies. Those issues were not included in the budget package.
Want to get notified whenever we write about any of these organizations ?
Next time we write about any of these organizations, we'll email you a link to the story. You may edit your settings or unsubscribe at any time.
Sign-up for Alerts
Organizations in this Story
0 P.O. Box 751
Geneva, IL - 60134
0 P.O. Box 648
Geneva, IL - 60134-0648
0 P.O. Box 782
Sugar Grove, IL - 60554
More News